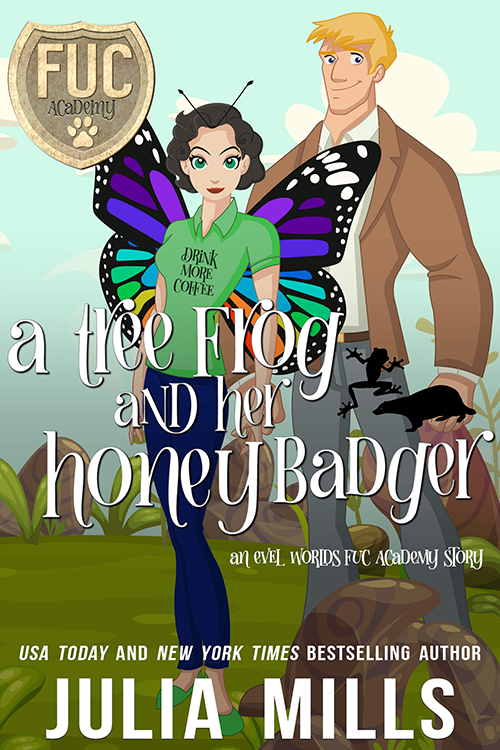 The world has gone mad! Absolutely nuckin' futs crazy! Well, maybe not yet, but Dr. Winifred—please call her Freddie—Lightfoot is sure all hell's about to break loose if she doesn't stop the idiot who's destroying the world's coffee fields.
Life without caffeine is a no-go for this FUC superhero. A world without her favorite drink is not a world she wants to live in. Time to throw on her rainbow wings and kick tail, even if it means putting off meeting a certain sexy-as-the-day-is-long honey badger.
Retirement was boring. Buck Blackthorne needed adventure, purpose, and to be on the front lines again. One quick email to Furry United Coalition Newbie Academy—FUCN'A—and everything was a go.
With more years of combat under his belt than all the cadets combined, he just knew training would be a snap! Well, like a bang, boom, kapow and a trip to the infirmary… on second thought, maybe retirement wasn't so bad.
But one whiff of a certain sexy winged tree frog and all bets were off. He was in for the long haul and ready to claim her as his own… But where the hell did she go?
One unanswered phone call, a supersonic trip south, and jumping from a perfectly good plane was all in a day's work for this honey badger hero. There wasn't a jungle that could stop him, but prehistoric shifters? Well, that was a new one.
Time to save his mate, save the day, and, heaven help him, save the coffee! Oh, baby, put your head between your legs and kiss your booty goodbye. Time to get FUC'd in the best possible way.
A Tree Frog and Her Honey Badger is a Furry United Coalition Newbie Academy (FUCN'A) book, set in Eve Langlais' EveL Worlds is available on all platforms now!
Also available from Julia Mills in the "Up Shift Creek" FUCN'A miniseries: Doc and Her Dragon and Dusty and Her Dino! All three books are available in a collection: Up Shift Creek Books 1-3.