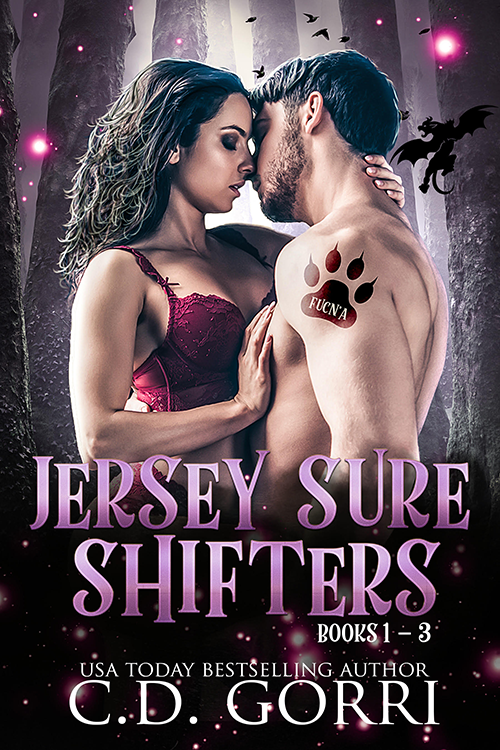 Jersey Sure Shifters are here...and the Rockies will never be the same!
Books1-3
Chinchilla and the Devil
Someone has been stealing meatless meatballs from the cafeteria at the Furry United Coalition Newbie Academy or FUCN'A as it's called for short!
Conflict Resolution & Situation De-escalation Counselor Sofia Pelosi must discover and stop the meatless meatball marauder from wreaking havoc on the cadets' diets. But to do that, she must help Tony Leeds, a private investigator, break into the academy files. The handsome devil will help, but only if Sofia scratches his back in return.
Sammi and the Jersey Bull
A hedgie charged with identity theft. A bull with questionable familial associations. Tofu Taco Tuesdays are about to get real at FUC Academy.
Samantha Andrews is eager to rise in the ranks, but being charged with criminal activity is no way to get there! Sergio Gravino is just another PRIC tracking his perp to the Rockies. Imagine his shock when his prime suspect turns out to be his mate. Can Sammi convince him she's innocent?
Mouse and the Ball
A mouse determined to be independent. A ball python with an insatiable urge to protect his main squeeze. Will Wasabi Wednesdays prove too hot for these two to handle?
Ever since she was rescued, Julietta DiCarlo has been put off by the smexy man her inner beastie desires. Tired of being treated to the rough side of Dr. Damon Finn's tongue, Julietta decides it's time for this little mouse to find her spine at FUC Academy. If the ball python wants his mate, he's going to have to change his perspective. Will Damon convince Julietta mating him isn't all bad?
*These 3 paranormal romance EveL Worlds novellas are set in Eve Langlais' Furry United Coalition (F.U.C.) World.