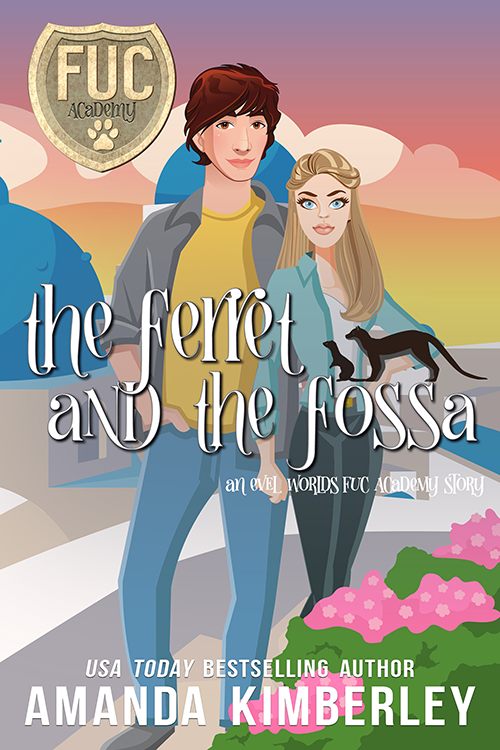 Is he a cat? A dog? A mongoose? Nah, he's a fossa, and this ferret is about to tunnel her way into his heart!
Carol seems to live every girl's dream. She's a ferret shifter with the best job in the world. As a COC handler at FUCN'A, she has the opportunity to travel worldwide on assignments. She answers to no one, which suits her just fine. But once she meets Rayan, a smooth-talking fossa, she begins to wonder if something has been missing from her picture-perfect life. Carol's kind craves companionship, and she's been burrowing solo for way too long.
Fossas— Madagascar's top predator—like Ray are rather solitary creatures, and he's quite happy with his way of life. Unfortunately, his father has gone missing, and now Prince Rayan has to speak for their territory at the Shifter Hellenic Island Talks. What's worse, being in the limelight has made him a target, too, and he's assigned a combat-boot-wearing pint-sized pocket pet as his protector!
When the fantastically fragrant ferret moves in and takes over the fossa's space, will he remain a creature of habit and push her away like he's done with all the rest? Or will these two unlikely allies bond while discovering the truth about Rayan's father?
The Ferret and the Fossa is a Furry United Coalition Newbie Academy (FUCN'A) book, set in Eve Langlais' EveL Worlds is available on all platforms!
Other Hellenic Island Shifters by Amanda Kimberley:
The first three books are also available in a collection: Hellenic Island Books 1-3.